Kristiansand – Accommodation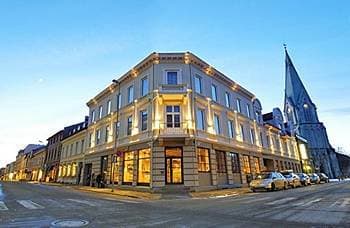 If you are staying in caravans, you can stay at the Tangenbobil-Parkering (38129720), near the city beach. Tents can be pitched at Roligheden Camping (38096722, kherlof@online.no), which is adjacent to a popular beach, at Framnesveien, 3 km east of the center. There are also cabins for four people on the campsite, which you can rent for 500 – 660 nkr. Access from the center by bus #15. A youth hostel open all year round – Tangen Hostel (Skansen 8, 38028310, fax 38027505) – it is surrounded by rather nondescript warehouses, 10 a minute's walk northeast of the fortress. A night in a common room costs money 150 nkr, in a single room -310 nkr, and in a double room – 450 nkr.
In summer, centrally located Hotel Bondeheimen (38024440, Kirkegata 15) offers rooms from 495 i 690 nkr. In the small and cozy Sjøgløtt Hotel (w / fax 38022120), known as "det lilie hotel" (small hotel), accommodation in rooms with a toilet, but without a shower it costs money 350 i 530 nkr, and in rooms with all amenities – 490 i 660 nkr. Cozy Villa Frobusdal B.&B (Frobusdalen 2, o38070515, fax 38070115), na skraju Baneheia, offers accommodation in a more rural atmosphere, although the resort is only located 10 minutes on foot from the center. It is open all year round except for XII, and the accommodation prices are 490 i 630 nkr.
Christian-sand Feriesenter leisure center (Tollbodgata 46, 38079800, fax 38079801) recommends small apartments for students (with self-catering). For one night for 1 -6 people are paying 600 – 795 nkr.
Convenient, high class Hotel Norge (Dronningens gate 5, 38020000, fax 38023530) proposes summer prices from 570 i 770 nkr. There is a library of old books next to the main hall, where you can relax.
It is possible to book accommodation in apartments, holiday homes, small boarding houses, hotelikach B&B and private accommodation via Anker Ferieleiligheter (38063161, fax 38070701, igruppen @online.no| and Holtan Rom & Hytteutleie (fax 38039616).
Gastronomy
At the Mega supermarket, in front of the train station, there is an inexpensive honesty bar, in turn, a recommendable bakery is located at Rådhus gate, near the post office. Large ICA supermarket well stocked with groceries, na rogu Kongens gate i Elvegata, is open weekdays until 21.00, and on Saturdays to 18.00.
Local visitors like to eat more specific meals in Snadderkiosken near the city beach. The choice of dishes is large, and the food really excellent. Hot dogs cost money 11 nkr, pizza 49 nkr, cod with mashed potatoes and lettuce 43 nkr, a roast chicken 44 nkr.
The best tacos and buińtos are served by El Taco (028071413), where a mexican style tray with a drink costs from 50 do 80 nkr. Another popular, but a more typical Mexican-style place is Amigo's (38026760) for Vestre Strandgate.
Peppes Pizza (Gyldenløves gate 7, 38022322) passes for 114 nkr pizza sufficient for two people. However, wanting to taste a really good pizza, worth going to Pizza 67 (Markens gate 35, 38024678) – pizzeria belonging to the Icelandic service chain – which invites you to such pizzas, like "Sergeant Pep-pers", "Flower Power" and the burning throat "TNT". China Palace offers affordable snacks, situated at Markens gate. Na rogu Markens gate in Dronningens gate, in derived from 1897 r. The bank building houses one of the world's most amazing McDonald's bars.
More lavish people can join the crowds at the fish restaurants near the port. The marina is located at Østre Havn (38120721), a przy Østre Strandgate 12a Sjøhuset (38026260). The interior design in these places is probably included in the price of good meals. You can get the freshest and tastiest fish at the fish market. The vendors are happy to cook freshly caught fish, which you can enjoy with a beer on the outdoor patio.
Entertainment
In summer, young people most often gather in a place called Zanzibar, which is open all year round (Dronningens gate 8, 38026244) and the outdoor cafe Kick next to it, where you can dance to live music. At Markens Pub, na rogu Markens gate i Tollbodgata, Disco music is played from Wednesday to Saturday in the evenings. On the other hand, Nightcap (City Hall gate 2, 38128600), at the Ernst Hotel, is a place for evening meetings, popular among the twenties and thirties. There is a large cinema on Vestre Strandgate.
Call information
Every day, Fr. 9.00 the Nor-Way Bussekspress bus leaves north to Voss (11 at, 480 nkr), with connection to Bergen (12 at, 540 nkr). Buses to Oslo (and back) run twice a day a week, and once a day on weekends (5 at. 30 min, 350 nkr), while to Stavanger (also back) – two or three times a day (5 at, 260 nkr). Local buses run several times a day to Arendal (1 at. 45 min, 86 nkr) in Flekkefjord (3 at, 128 nkr). To Evje (1 at, 59 nkr) buses run 6-8 times a day. Students and spouses pay half the price on all buses.
There are daily trains to Oslo (5 at, 400 nkr) in Stavanger (3 at. 15 min, 290 nkr).
Guests with a car will reach the El8 motorway, driving north from downtown Vestre Strandgate.
Communication
A city bus ride in the center costs money 13 nkr, a dojazd do Kristiansand Dyrepark – 19 nkr. In summer, the Sykkeltaxi bicycle rickshaws are available (91326264), whose stop is at the corner of Markens gate and Rådhus gate. The tour desk also rents regular green bikes, by charging only a deposit in the amount of 200 nkr. For fancier bikes, head to the Sykkelsenter (38026835), at Grimtorvet, where renting a bike costs 130 nkr for the day or 350 nkr in a week.