Telemark for everyone
Adam Małysz's fans associate this name mainly with the landing style in ski jumping. Skiers will associate it with the old one, although it is fashionable again here and there, a very difficult and spectacular downhill technique. But Telemark is not only a skier's paradise
Also outside the winter season, this southern district of Norway has a lot to offer to tourists. Thunderous waterfalls and secluded lakes. Gentle hills and wild mountains. Noisy tourist centers and empty, quiet paths, as if made for reflection and meditation. The choice is really big. For over a hundred years, Telemark has been a valued destination for people looking for relaxation. Now, thanks to planes flying from Poland directly to the nearby Torp airport, Telemark has become much more accessible to Polish tourists.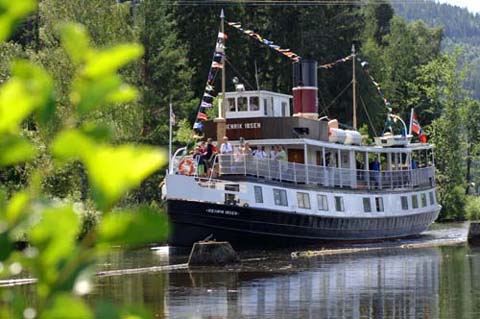 Telemark Channel
This is the most spectacular excursion destination in the region. The channel has pierced through the mountains 28 mucus, counts 105 km and overcomes 72 m difference in levels. It connected eastern and western Norway and made it possible to transport people quickly, farm animals, goods and timber. Shortly after graduating from 1892 year was hailed "the eighth wonder of the world". You can now make a romantic canal journey aboard three ships: m/s "Victoria", m/s "Henrik Ibsen" i m/s "Telemarken". The cruise looks like it did a hundred years ago, ships painstakingly pass successive locks, and passengers can enjoy the beautiful scenery. Canoe trips on the canal and cycling along its banks are also popular. Depending on your condition, you can choose the route that best suits your needs. Ready-made packages have also been prepared for tourists wishing to get to know the Canal, which include accommodation at the hotel, boat trip and return by bus.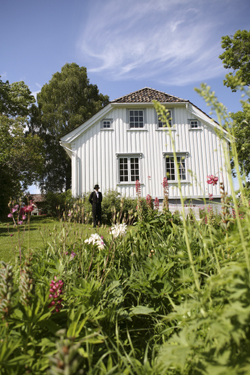 Henrik Ibsen
The famous Norwegian playwright was born in Skien in the 1828 year. His father, distillery owner, he was one of the wealthiest citizens in the city. W 1834 r. the state closed the distillery and Ibsen's family lost all their property. Only their summer house in Venstøp was left for them. Currently, it houses the writer's museum. Ibsen lived here until 15. age. It was here that his sensitivity was shaped and he developed his talent as a playwright. The museum exhibits mementoes from the writer's childhood. Visitors can see objects surrounding Ibsen and learn about events, which influenced the future writer.
Activity in the bosom of nature
The beautiful nature of Telemark invites you to relax in the fresh air. The coast is perfect for swimming, sailing, canoeing and fishing. The mountains encourage hiking. Hardangervidda is the highest plain in Europe and the largest national park in Norway. Numerous hiking trails are well marked. Popular starting points for tours are Haukeliseter Turisthytte on the E134 road and Mogen Turisthytte on Lake Møsvatn. Gaustatoppen is considered by many to be the most beautiful mountain in Norway. Its top reaches a height 1.883 m, offering an extraordinary view of a large part of Norway. There is a hundred-year-old chalet at the top, where you can rest after the hardships of climbing.
Something for the kids
In the spring in Skien, main city of the region, Two large leisure centers for children and families will be launched. Skien fritidspark is Norway's largest sports and recreation center. In addition to the sports halls, there will be a climbing wall here, water park, spa and wellness facility and cafe. Eventyrfabrikken, in turn, will be the largest children's play center in Scandinavia. A mysterious jungle with huge slides will be created under the roof, tunnels and locks. There will also be a quieter corner for smaller children. (jl)
Drive
You can fly to Torp airport several times a week with Wizz Air from Gdańsk, Katowice, Poznań and Warsaw. From the airport, take the Telemarkekspressen bus no 182 (1 h, 105 ENOUGH, www.nor-way.no) or by train (1 h, 136 ENOUGH, www.nsb.no).