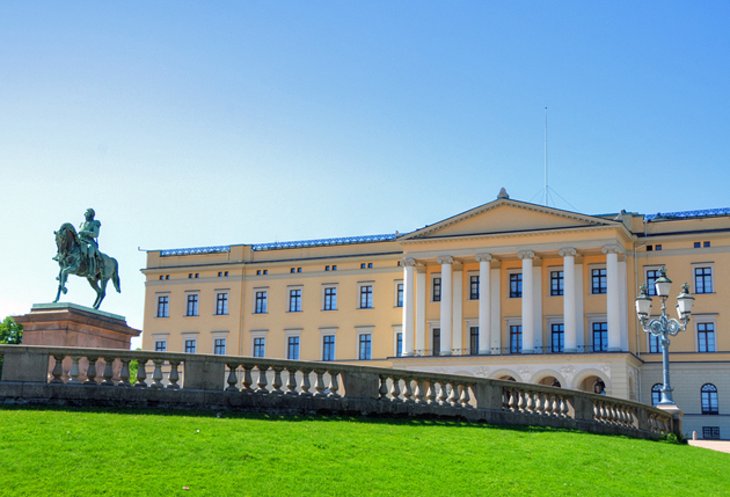 The Royal Palace in Oslo
The Royal Palace in Oslo is the official and de facto seat of the Norwegian Royal Family. King Harald V also presides over the Council of State and receives official guests here. The palace is open to visitors during the summer.
the Royal Palace (norw. The Royal Castle) closes on the west side of ul. Karl Johans gate - the most representative avenue in Oslo. The palace is situated on a small hill Bellevuehøyden and it is surrounded on all sides by the Royal Park. The history of this residence goes back years 20 - those from the 19th century, when the Norwegian Parliament earmarked funds for the construction of a new royal seat in Oslo (at that time, Norway and Sweden shared a common ruler, who generally resided in Stockholm, and in Oslo it stayed in an elegant one, albeit a modest Paleet townhouse, situated in the area of ​​former Christiania). The design of the Royal Palace in classicist style was drawn up by Danish architect Hans Linstow, and its construction took more than 20 years. Principal of the construction, król Karol III Jan. (as King of Sweden, King Charles XIV John), he did not have time to live in the palace, because he died a few years before its completion. Thus, its first resident was another monarch - Oscar I.. Until the beginning. XIX w. the Swedish kings of the Bernadotte dynasty usually visited Oslo several months a year, but they still resided at the Royal Palace in Stockholm. The Palace in Oslo was permanently inhabited only with the dissolution of 1905 r. the Swedish-Norwegian Union and with the accession to the throne of the new ruler - Haakon VII.
The Royal Palace is a three-story building, erected on the plan of the letter "U" (the original project envisaged the construction of a palace on the plan of the letter "H", which is similar to the Royal Palace in Stockholm, but ultimately the project was not realized due to a lack of financial resources). The magnificent facade is decorated with a portico 100 m in length and 24 m wide, and the rectangular side wings have dimensions 40 X 14 m. Inside the palace there are 173 rooms, of which the dining room and the banquet hall are the most impressive, decorated with paintings by Peter Fredrik Wergmann. There is also a chapel in the palace, which you can see with a guide in the summer. The Royal Park is the complement to the residence, in which there are some interesting monuments. There is a statue of King Charles III Jan in front of the façade, while in other parts of the park it is worth paying attention to two monuments carved by Gustav Vigeland - the Norwegian mathematician Niels Henrik Abel and the Norwegian writer and feminist - Camilli Collett.