LILLESAND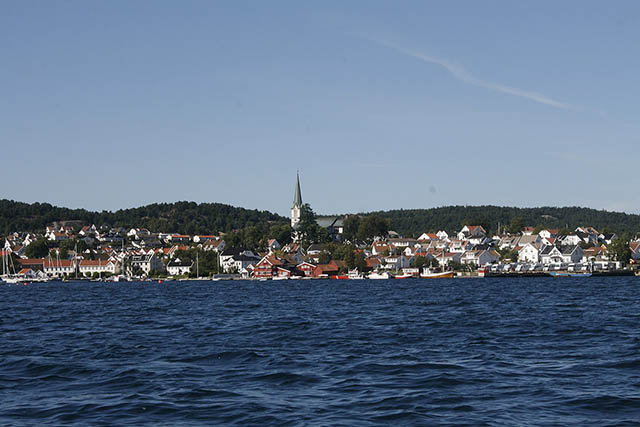 Lillesand is on the route from Kristiansand to Arendal. Well preserved, the center built with white houses fits perfectly with the name of the "white city", to which so many towns on the south coast lay claim. Tourist office in Lillesand (37272377, fax 37272980), at Strandgata 14, is open from 1 V do 31 VIII: on weekdays from 9.00 do 18.00, on Saturdays from 10.00 do 16.00 and on Sundays from 12.00 do 16.00.
Accommodation
A very popular Tingsaker Camping (37270421, fax 37270147), located by the shore, 1 km east of the center, is a typical seaside holiday campsite with tents, trailers, cottages and crowds of guests. Unfortunately, it is quite expensive, because it is a place for a tent or a trailer, a car and two people pay 130 nkr, and renting bungalows costs from 575 nkr (a modest four-person room) do 760 nkr (luxury). W Lillesand Hostel (37275040, fax 37275040) in Møglest, accommodation in a common room costs 100 nkr, and in a double room – 150 nkr per person.
Lillesand Hotel Norge (Strandgata 3, 37270144, fax 37273070) it is, according to the owner, something of an international monument and certainly offers the most atmospheric accommodation in Lillesand. The building is from 1837 r., but it was renovated several times (last time of the year 1964). There are rooms in the hotel, where the Spanish king Alfonso XIII and the writer Knut Hamsun lived. A collection of prints by a local artist named Ferdinand Finne inspired a library of old books. The prices of accommodation in singles and doubles are respectively 595 i 970 nkr.
Call information
The most pleasant way to go to Lillesand is by boat from Kristiansand, Nor-Way Bussekspress buses run to Lillesand from Kristiansand (45 min, 30 nkr) in Arendal (1 at. 15 min, 50 nkr) 2-4 times a day.