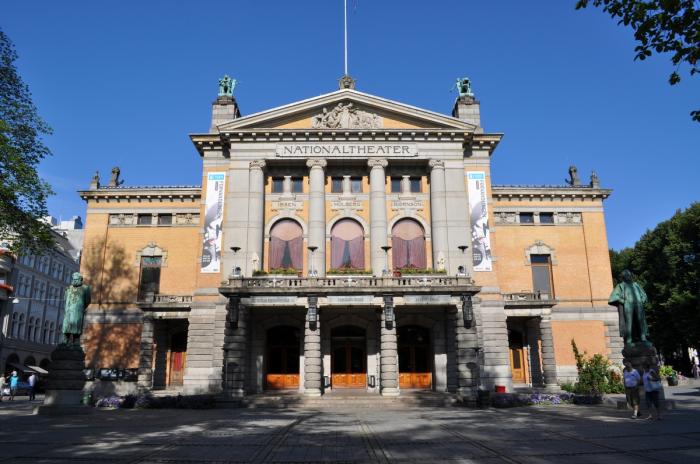 Oslo National Theater and Opera House
The National Theater and the Norwegian National Opera and Ballet are two of the most important cultural institutions in Oslo. The National Theater has over 100 years and is famous for staging plays by Henrik Ibsen. The Norwegian National Opera and Ballet, in turn, is quite a young institution, which is talked about above all in the context of its magnificent, modern headquarters, situated at the port of Bjørvika.
National theatre (norw. Nationaltheatret) was founded in 1899 r. The doors of the new building, situated between the Royal Palace and the Parliament Building, have been opened 1 September, and works by Ludvig Holberg were selected for the inauguration of the building and the institution, Henrika Ibsena in Bjørnstjerne'a Bjørnsona. Until the end of the years 20 - those of the 20th century. the theater operated thanks to private donations, and only later did the Norwegian state join the financing of its activities. Within over 100 years, the National Theater became famous for staging plays by Henrik Ibsen - a Norwegian playwright who created. in the spirit of national romanticism. The frequent presentation of Ibsen's works is hardly surprising - from 1905 r., that is, from the moment the union with Sweden was broken, The Norwegians needed to watch, above all, this, which strengthened their national consciousness. Today, the repertoire of the theater is a bit more diverse, both classical plays are played here, as well as the art of contemporary artists.
The Norwegian National Opera and Ballet is known primarily for its beauty, a modern building (norw. The Opera House), situated on Bispevika Bay and designed by Tarald Lundevall. Building, open in 2008 r., has a main hall (that can accommodate over 1350 people) and two smaller rooms (having 400 i 200 seating positions). A stone roof deserves special attention in the body of the Opera House, which descends steeply to the shores of the Oslo Fjord. On the roof you can go to the very top of the building, which is also quite an attraction. W 2008 r. The Oslo Opera House won the main prize of the World Architecture Festival, a w 2009 r. - Award to them. Miesa van der Rohe, awarded by the institutions of the European Union. It is also worth mentioning, that with its surface 38,5 thousand. m kw., The Oslo Opera House is the largest building erected in Norway since the Nidaros Cathedral in Trondheim.