Oslo City Hall and Parliament Building
The people of Oslo make jokes a lot, that the shape of their Town Hall resembles three, chunks of geitost goat cheese tucked together. Because indeed, Oslo City Hall seems a bit like the brown one, Norwegian delicacy, having a distinctive, sweetish flavor. Although the Town Hall is today one of the most characteristic buildings in Oslo, it is also impossible to forget about the 19th-century Parliament Building, maintained in a sumptuous neo-Romanesque style.
Town hall (norw. town hall) is situated on the Fridtjof Nansens Plass, on the very shore of the Oslo Fjord. Due to its size, the Town Hall is perfectly visible from the fjord, and in particular from on board ships calling into port. The cornerstone for the construction of the Town Hall was solemnly embedded in 1931 r. about Haakon VII, but the building was not opened until 1950 r. (construction was significantly delayed by the outbreak of World War II, but the opening of the Town Hall happily coincided with the celebrations 900 - the thirtieth anniversary of the city's founding). Design of this very original, consisting of three parts of the body, made by two architects - Arnstein Arneberg and Magnus Poulsson. The lowest part and situated closest to the shore, to the central hall, having 21 m in height. Two other parts are towers - the eastern one is high 66 m and the west - by height 63 m. Between the towers, on the northern elevation and at the main entrance to the town hall, there is an astronomical clock. Town hall, Despite this, that it is the seat of the Oslo City Hall and municipal offices, is open to tourists. Particularly noteworthy is the courtyard - decorated with statues symbolizing figures from Norwegian mythology and mosaics in the main hall. You also need to know, that every year, 10 of December, the ceremony of awarding the Nobel Peace Prize takes place in the City Hall building.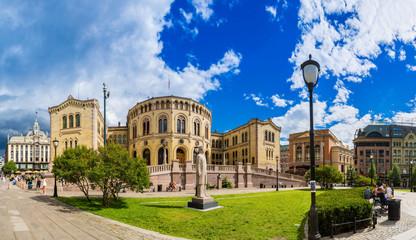 Norwegian Parliament Building (norw. The Storting building) It is located just a few hundred meters north-east of the Town Hall - on the representative Karl Johans gate avenue. This building is almost a century older than the seat of the Oslo municipal authorities and it is kept in a completely different style - neo-Romanesque. Over the years 50 - those of the 20th century. adjacent to the building is also adjacent to ul. Akersgaten modernist building. The Parliament building is also open to tourists, although it can only be visited on certain days and only with a guide. Inside, the Storting Room deserves special attention (that is Parliament), decorated with a painting depicting the enactment of the constitution in Eidsvoll in 1814 r., works by Oscar Wergeland. The much smaller Eidsvollsgalleriet room also looks beautiful, decorated with portraits of a dozen or so members of the Constituent Assembly 1814 r.