Holmenkollen
Picturesquely situated on the outskirts of Oslo, Holmenkollen can be safely considered one of the most important ski resorts in Norway. This is where the famous "Holmenkollen Week" takes place, in which many cross-country skiers take part, jumpers and biathletes, and whose exploits are watched by hundreds of thousands of viewers. The famous Hollmenkollbakken ski jump is also situated here.
Holmenkollen is located approx. 10 km northwest of Oslo city center. For all skiing fans, especially for Norwegians, this place is legendary, after all, it was here that the 1892 r. the first ski festival in the world. Today, the event is called "Holmenkollen Week" and it is not only a great sporting event, but also a great national holiday, which attracts hundreds of thousands of Norwegians to the outskirts of Oslo. Despite its name, The "Holmenkollen Week" in March lasts over a week (usually 10 – 11 days). During the event, not only professional athletes participate in the competition, but also politicians, disabled people and children (who generally graduate from ski schools in March). The most prestigious is the so-called. Holmenkollen March, which takes place on Sunday, at the end of the "Week", and in which he even participates 8 thousand. players.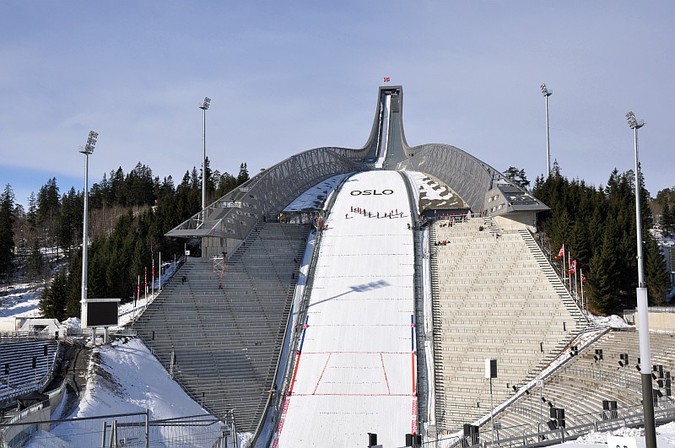 There is also a ski jump at Holmenkollen. The current design is from years 2008 – 2010, before, however, the Holmenkollbakken z 1892 r. Many great competitions were organized on the old hill, enough to say, that in 1952 r. jumps took place during the VI Olympic Winter Games in Oslo, as well as e.g.. many World Cup competitions, played under the so-called. Nordic Tournament (it is worth mentioning, that this tournament was won by Adam Małysz three times - in 2001, 2003 i 2007 r.). The present hill is a bit bigger than the previous one - it has one 134 metry, its design point is at 120 subway, the inrun length is close 103 m, and the stands can accommodate 50 thousand. viewers.